New plasterboard taskforce established
Posted: 21 June 2022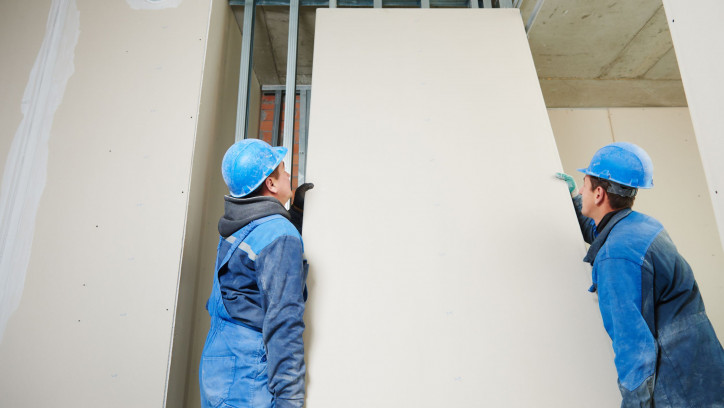 The Government set up a taskforce of industry experts to give advice and troubleshoot plasterboard shortages on 21 June, 2022.
The Minister for Building and Construction has set up a Ministerial taskforce with key construction and supply chain experts to look at what can be done to ease the current plasterboard shortages facing Aotearoa New Zealand. This including the potential for legislative or regulatory change.
The taskforce will aim to both increase sector productivity as quickly as possible, and to remove any unnecessary barriers, including around certification, to facilitate the use of different types of plasterboard.
The taskforce will oversee and advise on the cross sectoral and government response required to ease current plasterboard supply constraints. Specific responsibilities of the taskforce include:
advising on constraints and issues relating to the supply of plasterboard across businesses and industry
identifying opportunities to expedite plasterboard supply across industry
identifying opportunities to facilitate and support the use of alternative products and their approval within the building consenting system, including by the testing and certification of these alternatives
identifying other product constraints that should be explored to mitigate further supply chain constraints to builders and contractors in the next 3-6 months.
Members of the Taskforce
The current members of the plasterboard taskforce are:
Hon Dr Megan Woods (Chair) Minister for Building and Construction, Minister Housing and Urban Development
Rick Herd, CEO of Naylor Love
Dave Kelly CEO of Registered Master Builders Association of New Zealand
Shane Brealey, Simplicity Living, managing director
Sir Stephen Tindall, Founder and former chair of the Warehouse Ltd and Founder and Trustee of The Tindall Foundation
Tex Edwards, 2degrees founder
A representative from Local Government New Zealand
Current guidance and information
Current guidance and information on plasterboard and product substitution.
Plasterboard substitution in New Zealand
Tags in this article