Crowning the Apprentice of the Year
Posted: 12 November 2020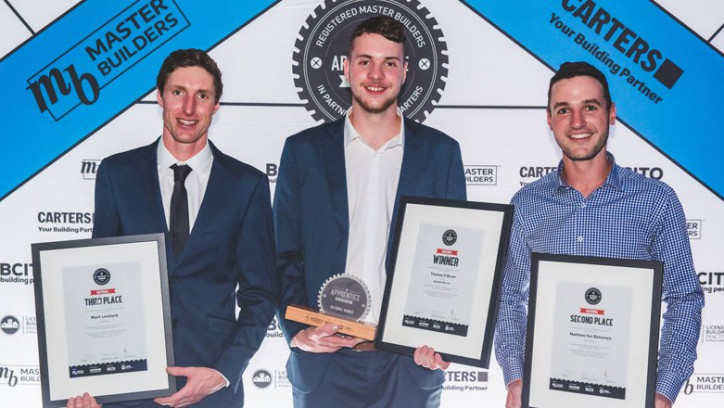 The Registered Master Builders Carters 2020 Apprentice of the Year competition was held on 7 and 8 November in Auckland, and the Licenced Building Practitioner team were there on behalf of MBIE as a supporting sponsor.
The competition saw nine of the best young tradies in the country battle it out over two days, following a series of regional qualifying events earlier in the year. Each apprentice faced a 45 minute interview with the judging panel, before the final practical task gave each competitor six hours to build a mud kitchen to be donated to one of nine early learning centres across Auckland.
The eventual winner was 20 year old Thomas O'Brien from Northland, with Mathew Van Boheman, from Bay of Plenty Central Plateau finishing second and Mark Lovelock, from Upper South Island rounded out the podium with third.
The building industry has responded very well to the challenges posed by COVID-19, and there are currently a record number of carpentry apprentices in the industry following a $380.6m initiative from the Government in June which removed apprenticeship fees and made construction a targeted area of funding.
Vincent Kneebone from our Occupational Licencing Team was one of the judges at the event, while Duncan Connor, Registrar of the Licensed Building Practitioners scheme had the honour of speaking and presenting at the awards.
Duncan was impressed with what he saw during the competition:
"We're thrilled to have had the opportunity to sponsor the Apprentice of the Year competition for a seventh year. The building sector is crucial to New Zealand's economy, and apprenticeships are an incredibly important part of keeping our building industry running smoothly. It has been wonderful to see these fantastic young people at work throughout the competition, the future of building in NZ is clearly in very good hands."
Tags in this article