Building stronger conversations
Posted: 13 June 2023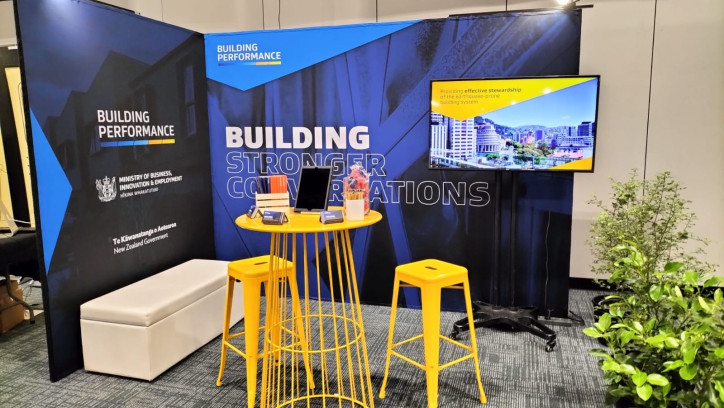 It has been a busy 2023 so far for Building Performance. We've kicked off our stakeholder event programme and have recently been at three events across Aotearoa.
Our team have really enjoyed getting the opportunity to build stronger conversations with the sector.
NZSEE Conference
The first event was the New Zealand Society for Earthquake Engineering (NZSEE) Conference held at the University of Auckland in April.
Building Performance's Chief Engineer, Dr Ken Elwood provided an update on MBIE's Seismic Work programme and an update on the Resilient Buildings Project. The Resilient Buildings Project is an NZSEE initiative to rethink the framework behind New Zealand's earthquake standards and design approach.
MBIE's Building for Climate Change Policy Director Antonia Reid hosted a plenary session offering various perspectives on the current state of sustainable design in New Zealand.
Having a presence at NZSEE provided our team with the opportunity to engage with their industry peers and find more opportunities to support their work.
BOINZ Conference
The Building Officials Institute of New Zealand (BOINZ) Conference was our next event, held in Auckland in May. This is one of the biggest conferences in the Building Performance calendar.
At BOINZ we heard from our new General Manager, David Hall. David spoke to the incredible mahi from our team in the building emergency management response following the severe weather events in the North Island earlier this year. He also acknowledged the incredible efforts of rapid building assessors, building consent authorities, and others in the building sector in the areas of the North Island who were put under enormous pressure following the events over summer.
The Building Performance leadership team also provided updates on changes to the building regulatory system, the new Code of Ethics for Licensed Building Practitioners, the Building for Climate Change work programme and H1 energy efficiency requirements. The Building Emergency Management team hosted a panel discussion on building for emergency management and flood resilience.
A big congratulations to Jennifer Clarke from our System, Design and Implementation team who won an award recognising her contributions to BOINZ.
NZCB Conference
Our third event was the New Zealand Certified Builders Conference (NZCB), which kicked off with an opening speech from our Minister for Building and Housing, Hon. Dr Megan Woods. Hon. Dr Woods addressed what builders can expect to be rolled out over the next three years in the Building for Climate Change work programme following the recent changes to the H1 Building Code requirements for energy efficiency.
Our trade stand presence at the expo was well-received by NZCB members and led to a number of great conversations on CodeMark products and the upcoming fire, plumbing and hollow core changes to the Building Code.
These events have allowed us to provide another platform of communication with the sector. We use these opportunities to build better conversations about our current work programmes, gain valuable feedback and insights from the sector.
Where you'll see us next
We are looking forward to having more conversations with the sector and sharing our work programmes this month. The Building Performance team are attending the BuildNZ, Colab (OffsiteNZ) and Structural Engineering Society of New Zealand (SESOC) events in late June.
We hope to see you at an event soon.
Tags in this article