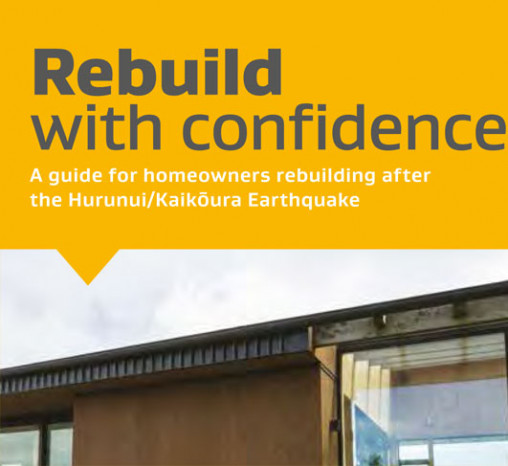 Homeowners affected by the Hurunui/Kaikōura earthquake can use this Rebuild with confidence booklet to help plan and manage the rebuild or repair of their home.
The booklet gives an overview of the building process, and some useful tips, but does not cover all the rights and responsibilities involved. Always check with your insurance company, EQC, your local council and any tenants before you start building work.
As the homeowner, you are responsible for ensuring rebuild or repair work complies with the law and is of a good standard. This protects you and also protects anyone who may buy your home in the future.
Read the guidance below or download it:
Rebuild with confidence: A guide for homeowners rebuilding after the Hurunui/Kaikōura Earthquake [PDF 714 KB]

Information for people receiving insurance payments for repairs following the November 2016 earthquakes [PDF 46 KB]
More details
This document is a guide only. It should not be used as a substitute for legislation or legal advice. The Ministry of Business, Innovation and Employment is not responsible for the results of any actions taken on the basis of information in this document, or for any errors or omissions.
Guidance disclaimer: This document is issued as guidance under section 175 of the Building Act 2004. While the Ministry has taken care in preparing this document it should not be relied on as establishing compliance with all relevant clauses of the Building Act or Building Code in all cases that may arise.