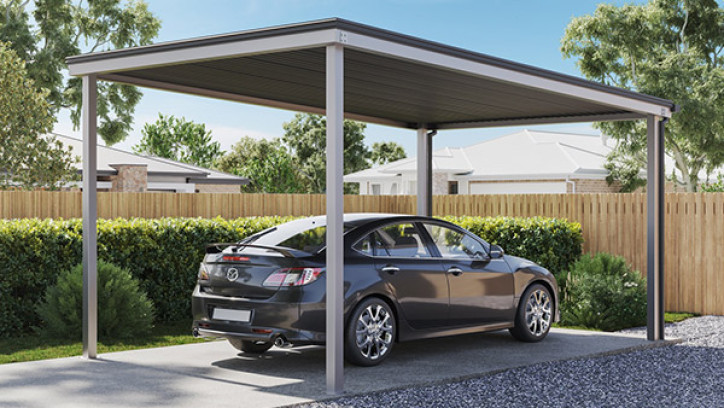 A building consent is not required for carports up to 20 square metres in ground floor area.
What the law says
Subject to section 42A of the Building Act, Schedule 1 exempts the following from a building consent:
Building work in connection with a carport that:

(a) is on the ground level; and
(b) does not exceed 20 square metres in floor area.
Guidance on the exemption
This exemption relates to roofed structures that are used for motor vehicle storage. To be regarded as a carport, at least one side of the structure must remain open to the outdoors at all times.
The floor area, which is taken to be the area within the posts and/or walls supporting the roof structure, must also be no greater than 20 square metres to qualify for this exemption.
This exemption also includes all work relating to the disposal of stormwater as it relates to the carport.
Check with your council

Always check with your council to make sure your proposed building work does not have any district planning implications (eg maximum site coverage, yard/setback requirements, daylight access planes or permitted activities). A resource consent may be required and it is important that you obtain this before starting any building work.

If you are building close to boundaries you need to give due consideration to the Building Code requirements regarding protection from fire; particularly in relation to the external spread of fire to neighbouring property.
Examples where this exemption could apply
Constructing a new free-standing carport. The carport will have a concrete slab on grade, be open on all sides, and have a floor area of 20 square metres.
A courier company intends to build a 20 square metre carport. The carport will be open on three sides and attached to the existing single storey depot building.
Example where building consent is required
Constructing a new free-standing carport with a floor area of 25 square metres which will be open on all sides. As it exceeds 20 square metres in floor area, a building consent is required.