Damage to wall linings (plasterboard) caused by flooding
When a flooding emergency happens, and your walls have been damaged it is likely that the plasterboard will need to be partially or in some cases completely replaced.
The following information applies to newer homes that have been built in accordance with the current Building Code. For older homes with types of construction no longer used, such as lathe and plaster requiring substantial repairs, consider consulting a designer, engineer or a builder who is a Licenced Building Practitioner (LBP) before you remove or replace a wall lining with plasterboard.
For more detailed information removing and replacing wall linings see the following guidance documents:
Before you start
Before you remove large areas of plasterboard or undertake any repairs or replacement, consider consulting a designer, engineer or a builder who is a Licenced Building Practitioner (LBP).
Identifying potential damage to plasterboard linings
Damage to plasterboard linings may be due directly to exposure to water which could see the lining become mouldy or discoloured.
Damage could also occur if there has been movement of the building due to foundation settlement caused by instability of the land under or around your house. This could lead to cracking at corners or other junctions.
Why you should repair plasterboard linings
Plasterboard is one of the most common wall and ceiling linings for houses in Aotearoa New Zealand and often performs multiple functions. Exposure to water or significant movement can affect the safety of the home and the health of its occupants. If flood damaged plasterboard is not replaced it may lead to:
health issues due to growth of mould, this may not always be visible on the exposed surface of the lining
reduced stability of the building due to reduced bracing against wind and earthquake loads
reduced support for elements of the building if rot or mould occurs to the structural framing elements or connections
reduced performance against the spread of fire to adjacent properties.
Different types and purposes of plasterboard
Plasterboard is one of the most common wall and ceiling lining for houses in Aotearoa New Zealand and the plasterboard that lines the walls and ceilings in your home may be doing more than you may think.
It can be difficult to identify the type or purpose of plasterboard without expert knowledge or information. The building consent plans will typically show where the different types of plasterboard are located, and these plans, if available, can be obtained from your Council.
Alternatively, you may be able to find out the use and purpose based on its location in the home. For example:
Plasterboard that contributes to bracing of a building
Timber framed walls are required to be braced so that the building can withstand the effects of wind and earthquakes. In many houses, plasterboard contributes towards bracing the building and will have specific requirements in the way that it is manufactured, fixed and located. It may not be obvious which walls are providing bracing for the building.
The walls highlighted in this house layout are some walls that could be contributing to the bracing of the building.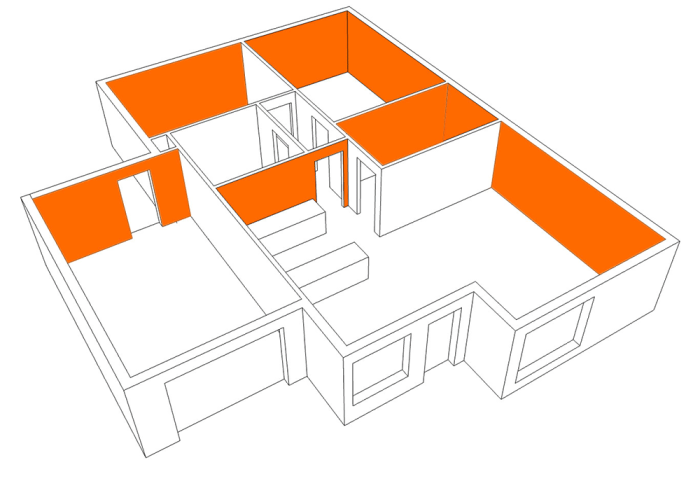 Plasterboard in areas splashed by water
Walls that are likely to be splashed by water, such as those in bathrooms or kitchens may have a specific type of plasterboard which is moisture resistant and helps to stop the growth of mould.
The walls highlighted in the kitchen and bathroom of this house layout could have moisture resistant plasterboard.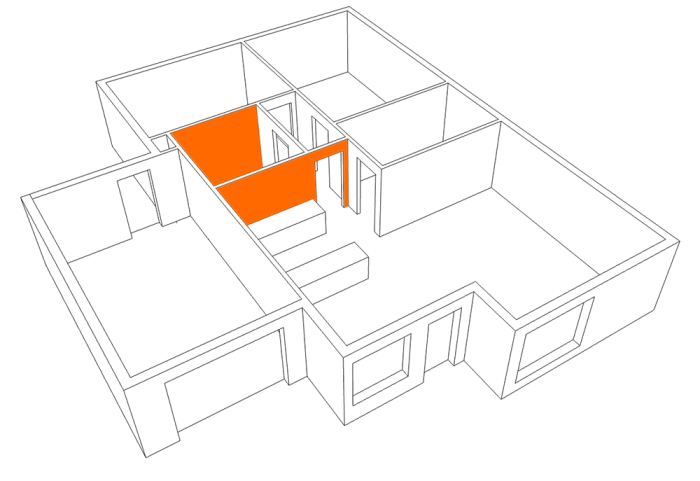 Plasterboard on walls separating houses (intertenancy walls)
Townhouses or houses that are joined together with a shared wall (intertenancy wall) may have plasterboard that may be contributing to preventing the spread of fire from one house to another. Plasterboard on intertenancy walls may also be contributing to the soundproofing between the two homes.
The walls highlighted in these townhouses are intertenancy walls which could have plasterboard which is contributing to the fire-resistant rating and soundproofing between homes.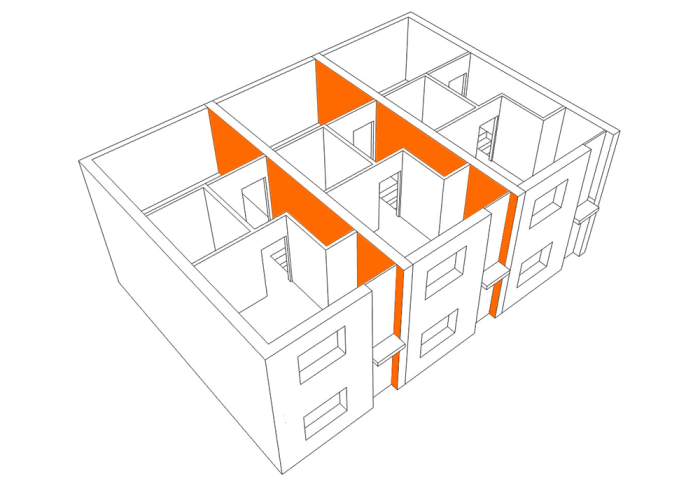 Plasterboard on walls close to boundaries
If the building is close to the boundary the external walls facing that boundary could also have plasterboard that is contributing to the fire-resistant rating of that wall.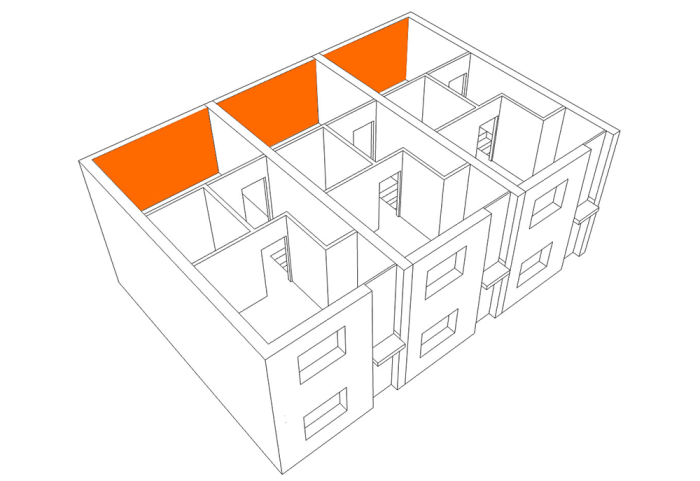 To further help your builder with the identification of the type of plasterboard you should take photos of the fixings and the colour of the back of the board if you remove it.
If you are unable to identify types or purposes of wall linings, you should consider how you approach the work before carrying out significant removal of large sections of plasterboard.
Removing plasterboard
If significant sections of wall need to be (or have already been) removed, you will likely need some form of temporary bracing or lining to be installed. You should consult with your Council or a building professional before reoccupying a house if substantial sections of wall lining will be removed for significant periods of time.
It is important that any cavity spaces and enclosed structural framing is dry and in good condition before being enclosed.
Before starting any removal work you should consider the safety risks to yourself and others. Ensure you have the correct equipment and resources. You should also consider shutting off electricity and gas to the house while the work is being carried out.
Some risks that may be involved in removing plasterboard include:
dust, mould and debris
slips trip and falls
services inside wall or ceiling spaces
loss of support to building elements.
Regulations relating to the repair and replacement of plasterboard
Some work may require a building consent while other work may be exempt from the need to obtain a building consent. However, regardless of whether a building consent is required, all work must be carried out in accordance with the requirements of the Building Code and should not result in a reduction of performance of the building prior to the flooding.
These requirements also apply to related areas of work such as installing insulation, work to structural framing and work to services located in the wall or ceiling space.
Your local Council will be able to advise on discretionary exemptions that may apply.
Using a different plasterboard brand
You may not be able to source the same brand of plasterboard as the original, so you may need to replace the plasterboard with a different brand.