Sanitary fixtures for Tiny Houses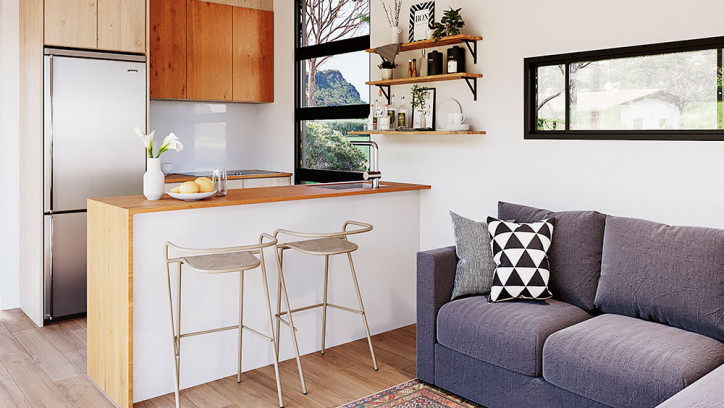 Find out about how the Building Code applies to the installation of sanitary features.
The Building Code sets the requirements that building work must meet, and these requirements apply to the construction of a tiny house.
Learn more about The Building Code
The following Building Code clauses apply to the installation of sanitary fixtures:
B2 – Durability
This clause must always be considered when demonstrating compliance with each of the clauses of the Building Code. Under this clause, building materials, components and construction methods are required to be sufficiently durable.
Learn more about B2 Durability
G1 Personal Hygiene
This clause sets out the requirements for the provision of sufficient sanitary fixtures for sanitation within buildings. This clause confirms that facilities for personal hygiene are provided to safeguard from illness caused by infection or contamination and sets requirements about privacy and the numbers and location of sanitary fixtures.
Learn more about G1 Personal hygiene
G13 Foul Water
This clause sets out requirements for the construction of sanitary plumbing and drainage systems, and requires the safe disposal of foul water to prevent illness and the loss of amenity due to odour and accumulated matter.
Under this clause, buildings in which sanitary fixtures and sanitary appliances using water-borne waste disposal are installed must be provided with adequate plumbing and drainage systems to carry foul water to an appropriate outfall (such as a sewer) or to a system for the storage/treatment/disposal of foul water (such as an onsite waste water disposal system).
This clause requires a foul water drainage system to be connected to a sewer, where a sewer connection is available.
This safeguards people from illness due to infection or contamination and loss of amenity due to the presence of unpleasant odours or the accumulation of offensive matter.
Learn more about G13 Foul Water
G12 Water Supplies
This clause requires the safe supply, storage, reticulation and delivery of hot and cold water.
This clause requires buildings provided with water outlets, sanitary fixtures or sanitary appliances to have safe and adequate water supplies (including where hot water is necessary). It sets out requirements to avoid scalding, injury, leaks, contamination, illness and the prevention of legionella growth.
Learn more about G12 Water Supplies
H1 Energy Efficiency
This clause refers to the efficient use of energy and includes requirements for hot water systems supplying sanitary fixtures.