2.9 Demolition of detached building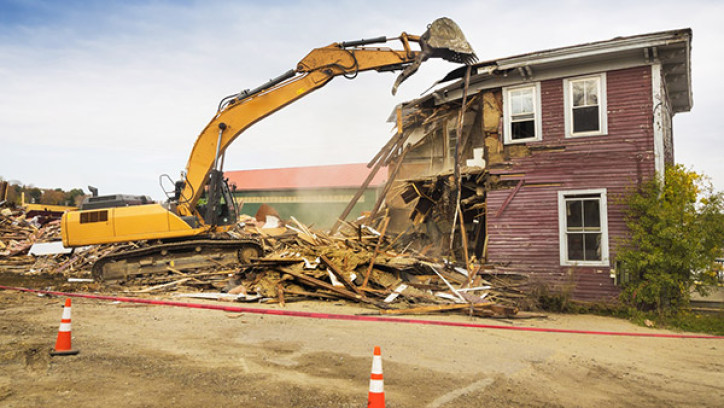 A building consent is not required to demolish a detached building up to 3 storeys high.
This exemption allows for the full demolition of all detached buildings that are not more than three storeys high. However, partial demolition is not exempt from building consent, other than as permitted by exemption 31 (section 1.4). If you are considering demolishing an existing building under this exemption, we recommend that you also consider the following:
contacting the relevant service authorities to advise them of the extent of your work and discuss requirements regarding the termination of existing services such as electricity, gas, drainage, water, transport, telecommunications, cable television and any other services that may be affected
handling and disposing of hazardous building materials
controlling silt runoff, excess noise and dust generated by the demolition work, and
securing the site (eg with a temporary fence or hoardings) to restrict public access to the area and avoid injury to members of the public.
As a building owner, you should also check council requirements for the repair and reinstatement of any damage to the road reserve.

We recommend that you use skilled and professional building practitioners for major demolition work.

No demolition work should be undertaken on heritage or character buildings without first checking with your local council for its approval.
What is exempt
Following an earthquake, the owner decides to demolish their severely damaged 2 storey, detached family home.
The new owner of an old wooden single storey, detached holiday home plans to demolish it to make way for their new dream holiday home.
What needs consent
Following a fire, a shop owner decides to demolish their damaged shop which is attached to another building (ie it is semi-detached) that is not damaged. A building consent is required because the building is not detached.
To make way for a new apartment block, the owner of a 4 storey commercial building intends to demolish it. A building consent is required because the building is more than 3 storeys.
What the law says
30. Demolition of detached building
The complete demolition of a building that is detached and is not more than 3 storeys.