9. Building types: Designing buildings for access and usability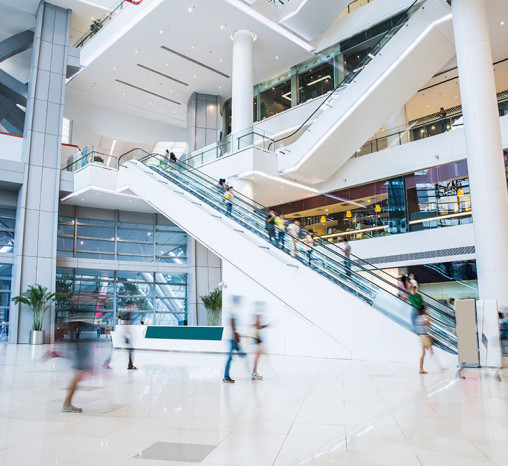 Transport buildings, sports facilities, retail premises and historic buildings have particular issues affecting their use which must be considered.
Transport buildings
Meeting incoming or catching outgoing transport vehicles can be stressful. Getting the appropriate information and being in the right place in the building at the right time is important.
Transport buildings should be designed to assist building users to board and alight from transport vehicles, and meet and send off people as easily as possible.
Access to up-to-date and real time information is crucial in reducing stress, avoiding the missing of transport connections and limiting the need for those waiting to ask staff for clarification.
People who are blind or have low vision rely on public transport, but at a complex transport exchange or hub, they often find it difficult to know where to go to get the transport they need, or when it will arrive.
There are numerous locations in buildings (such as in toilet cubicles or corridors) where information can only be given out over loud speakers. This means that travellers with hearing impairment or who are otherwise distracted may not be aware of important announcements. In addition, transport buildings are often very noisy, presenting difficulties in hearing for everyone.
Passengers should be able to wait in a warm well ventilated environment, and have seating. Some people may also be limited as to how far or quickly they are able to move.
As some passengers are not able to use on-board toilet facilities it is essential that appropriate toilets near set down and boarding points are provided.
In some situations modes of transport which are large enough for wheelchairs are not used because there is no ramped access to it. Having portable ramps available on site makes more vehicles accessible.
Gradients can cause problems for wheelchair users and building users with buggies. Where platforms are not exposed to weather there is little benefit in setting them to falls.
At transport hubs there is often a need to change modes which may put passengers at risk if pedestrian routes cross vehicle paths.
Design considerations
Ensure visible and audible arrival and departure information is available in all public areas, including toilets and waiting areas.
Ensure the environment is designed to make aural communication easy and understandable.
Install loudspeakers in a number of locations rather than relying on a small number of sources used at high volume.
Provide waiting areas with seating close to information points, toilets, refreshment areas and transport boarding locations.
Provide toilets as close as possible to departure and arrival points, suitable for passengers with luggage.
In major transport hubs, provide Changing Places facilities for those who need assistance from carers.
Ensure buildings have storage for portable ramps where on board ramps are not provided or may be inoperative, and that staff can access them.
Ensure left luggage areas are accessible for everyone.
Install tactile ground surface indicators to provide guidance and warning of boarding positions.
Identify areas where assistance dogs can toilet.
Ensure platform gradients are set to falls only in areas exposed to weather.
Ensure pedestrian access between transport modes is weather protected and avoids the need to cross vehicle paths.
Consider new technology for the provision of information and wayfinding for people who are blind or have low vision.
Sports facilities
Sports facilities should provide for the additional space and facilities required by wheelchair users.
A major consideration for designers of new or refurbished sports buildings is the increased space required by wheelchair users playing sport.
Sports wheelchairs usually have larger dimensions than conventional wheelchairs. Transfer into sports wheelchairs is often done on arrival at the vehicle setting down point so all circulation space needs to reflect the greater widths.
Sports buildings are unique in that teams of people using wheelchairs and their supporters who also may be in wheelchairs, could be present in the building at any one time. The provisions within the environment should reflect the numbers of wheelchair users likely to be present.
Mobility aids and artificial limbs are generally not collapsible and therefore need appropriately sized storage units. Space should be provided for the storage of mobility aids, artificial limbs and day and sports wheelchairs when not in use.
Wheelchair athletes often transfer into a day chair between matches. Some facilities may also have sports wheelchairs available on loan. Adequate storage should be provided in convenient locations to cater for wheelchairs.
Swimming pools
Suitable provisions should be included to allow people with disabilities to discretely and conveniently enter and exit pools.
Traditionally, hoists have been used to transfer wheelchair users into swimming pools. This method attracts attention making many users feel self-conscious and uncomfortable. It also requires the assistance of helpers. As a result, some wheelchair users would rather not use the pool at all.
Possible alternative access options include:
ramped access which is suitable for people using aquatic wheelchairs and those able to walk
easy going steps and transfer walls where a surrounding wall is at pool and wheelchair transfer height.
Due to space requirements it may not be possible to consider these options in existing facilities.
Ramps are preferable to hoists as they are always present, do not break down, do not need someone to help and are discrete. The gradient of ramps should be closed carefully to take account of the resistance of water. Pool access chairs will also be needed with appropriate storage for them.
Changing facilities for people with disabilities should be located close to pool entry locations.
Swimming pools are a particular risk area due to wet surfaces and no footwear. Providing handrails enables those who require support to move about with the minimum of assistance.
Amputees and people using crutches will have concerns about getting from the changing rooms to the pool safely. Matting should be provided to avoid slips and falls. Once at the pool side they will want to leave their equipment at the side of the pool so they do not have to crawl to and from adjacent seating.
Contrasting surfaces in colour and texture assist with navigation and orientation. As an example, contrasting the pool edges with colour and texture assists with detecting the location of the pool.
Design considerations
Ensure that circulation space reflects the expected sizes and numbers of sports wheelchairs.
Where appropriate, ensure that the design will accommodate teams of wheelchair users and their supporters.
Ensure that adequate storage space is available in convenient locations for the storage of mobility aids, artificial limbs and wheelchairs when not in use.
Ensure that everyone is able to enter, use and leave a pool in ways that are as discrete and convenient as possible.
Ensure that changing facilities for people with disabilities are as close to the pool as possible.
Ensure changing facilities include the use of colour contrast to locate features, items and furniture such as toilets, hand basins, seats and shelves.
Consider the provision of handrails around swimming pools to assist with movement wherever possible.
Provide matting for a route from the changing rooms to the pool.
Provide pool access chairs for ramp use.
Building Code requirement
Building Code clause D1 Access routes:
D1.3.4 An accessible route, in addition to the requirement of Clause D1.3.3, shall: (b) have adequate activity space to enable a person in a wheelchair to negotiate the route while permitting an ambulant person to pass.
Retail premises
Narrow aisles in shops cause significant issues for building users in wheelchairs or people pushing buggies, especially when other shoppers stop to look at displays.
For people who are blind or who have low vision, cluttered spaces where the route through is not straight can make navigation and orientation difficult.
While internal displays are not building related, using contrasted floor surfaces can ensure that routes and display areas are kept separate.
When space is at a premium a pull-out shelf at the checkout counter is useful for shoppers to find and open purses and wallets. If fitted with a spring, when the outside edge is pushed the shelf will come out.
Fitting rooms
Fitting rooms should be suitable for ambulant disabled people and wheelchair users with an assistant.
Design considerations
Ensure that routes through retail premise are of adequate width, straight with flooring that contrasts with display areas.
Plan clear spaces in front of checkouts.
Where counter space is at a premium, consider the installation of a pull out shelf.
Ensure the leading edge of checkout counters contrasts with the counter.
Locate registers and checkouts in locations that are easy to find for all users.
Ensure that some suitable fitting rooms which include contrast of finishes and fittings are available, and accessible to all building users
In smaller retail outlets, consider combining two adjacent adaptable cubicles to form a unisex accessible cubicle.
Provide accessible signage to locate fitting rooms
Building Code requirement
Building Code clause D1 Access routes:
D1.3.4 An accessible route, in addition to the requirement of Clause D1.3.3, shall: (b) have adequate activity space to enable a person in a wheelchair to negotiate the route while permitting an ambulant person to pass.
Historic buildings
Historic buildings often do not have features which allow easy accessibility. This can often mean that for some, they are only viewable from a distance and as a result, those accompanying excluded visitors often choose not to enter themselves.
While temporary facilities such as the addition of timber steps and ramps can improve accessibility, it may sometimes be possible to use a better secondary entrance and re-orientate the internal visitor experience to be more inclusive.
Where parts of the building cannot be adapted, or physical access for some building users is not possible, aural descriptions and visual displays in accessible areas should be considered.
While there may be limitations in the changes that can be made in historic buildings, it may be possible to improve the visitor experience.
Design consideration
Undertake an accessibility audit and review all possible options to provide the best possible visitor experience for all users.
Building Code requirement
Building Code clause D1 Access routes:
D1.3.1 Access routes shall enable people to: (a) safely and easily approach the main entrance of buildings from the apron or construction edge of a building, (b) enter buildings, (c) move into spaces within buildings by such means as corridors, doors, stairs, ramps and lifts.
D1.3.2 At least one access route shall have features to enable people with disabilities to: (b) have access to the internal space served by the principal access, (c) have access to and within those spaces where they may be expected to work or visit, or which contain facilities.
Restaurants and self-service facilities
Restaurants and self-service facilities should be designed to allow their independent use by everyone.
Restaurants
The layout in restaurants should be logical and clear with space to circulate between tables. There should be a choice of seating and spaces for wheelchair users.
Self service facilities
Carrying a tray, selecting food and moving while doing so is often a problem for wheelchair users. This can be greatly eased if the tray is able to be slid from start to finish on the counter.
Where a break in the tray slide is unavoidable, assistance should be available to carry the tray across.
Food and drink displays will need a range of shelves but where possible, items should be stacked vertically to allow wheelchair users and those of smaller stature to be able to pick what they need.
Design considerations
Ensure that layouts are clear and logical
Ensure adequate space between tables
Where tables and seating are fixed, provide spaces for wheelchair users to join others
In self-service facilities, install tray slides along the whole length of the counter
Provide counters at a height suitable for both wheelchair users and people on foot.
Ensure food and drink supplies are stacked vertically wherever possible
Ensure there are no changes of floor level
Provide toilets on the same floor
Buildings that require earthquake strengthening
Work to improve the earthquake performance of existing buildings should include accessibility improvements wherever practical.
When structural works are being undertaken to improve the earthquake resistance of existing buildings, opportunities may exist to improve the use of the building at limited or no additional cost.
An audit of the accessibility of the building could identify changes that might be made. Building owners are encouraged to look beyond the reinstatement of the building to its original layout and identify works that might be carried out to create a better environment. This could both benefit the current users and increase the investment value at little or no additional outlay.
Design considerations
Review all possible options to improve the accessibility of the building when planning earthquake strengthening works.
All guidance related to Buildings for everyone: Designing for access and usability