R-values for common construction types
The BRANZ House Insulation Guide provides construction R-values for common construction types. You can find some of the examples here:
Roofs
In an uninsulated house more heat is lost through the ceiling and roof than any other part of the house, making the roof the top priority for insulation.
Pitched timber-framed roof - R 3.3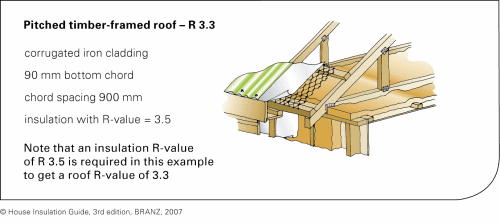 Skillion roof - R 3.3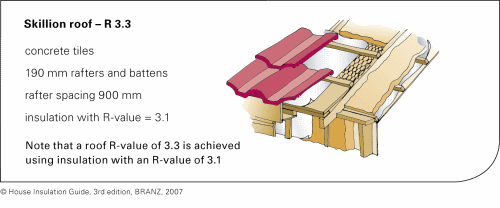 Walls
About 22 percent of heat from an average uninsulated home is lost through the walls. It can be difficult to insulate the walls of existing homes, but it's well worth insulating walls in new houses.
Timber-framed wall with brick veneer cladding - R 2.0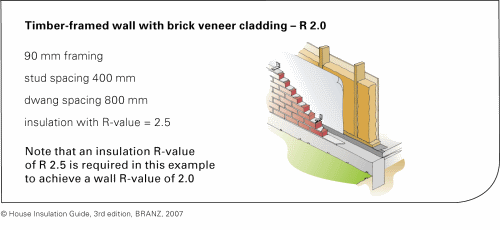 Timber-framed wall and weatherboard cladding - R 2.0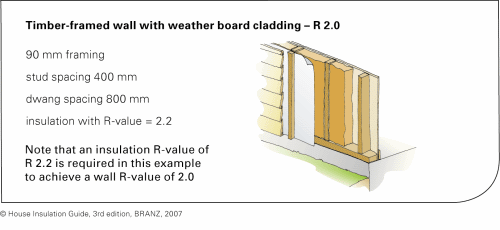 Floors
Around 14 percent of heat is typically lost through the floor. Installing underfloor foil insulation can be risky.
Risks when installing home insulation has information about underfloor insulation.
Concrete stab on ground - R 1.3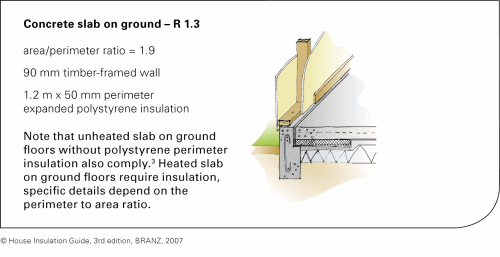 Suspended timber froor - R 1.3

Windows and skylights
Windows are the weakest link when trying to retain heat inside during winter or keep it out during summer.
Windows are cold during winter because they lose so much heat, which can produce a downdraft of cold air and condensation. Windows also have a large influence on overheating during summer. The use of tinted or low glass, eave overhangs or other shading can limit summer heat and fading.
Double glazing is a big improvement over single glazing, although doubleglazed windows still conduct much more heat than walls, floors or roofs.
Window frames have a big effect on heat loss and should be carefully selected if maximum insulation is desired.
Aluminium window frames conduct heat from inside to outside very easily. Inserting thermal breaks into aluminium frames reduces the heat flow considerably.
Further improvements to window performance can be made by using wood or PVC window frames, by the type of glass used and by the gas pumped between the panes of glass.
Double glazed aluminium - R 0.26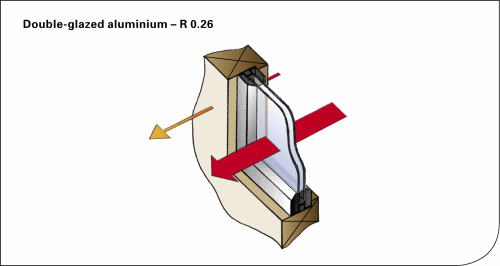 Single glazed wood or PVC frame and low emissivity class - R 0.27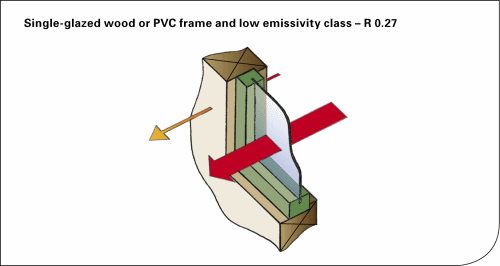 High performance double glazed - R 0.48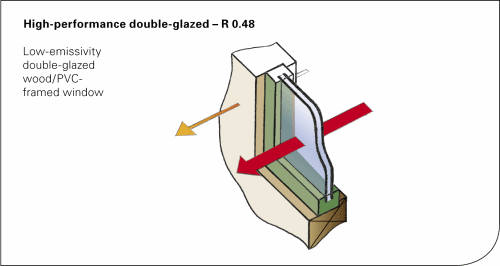 There are numerous window types available. You can find the R-values for them in:
NZS 4218
BRANZ House Insulation Guide
on Design Navigator
You should refer to he manufacturers' recommendations for all windows to ensure there is adequate support to carry the weight of the windows.