House insulation requirements
You need to meet the energy efficiency requirements set out in the Building Code, whether you are building a new home or making additions or alterations to an existing home.
The requirements vary for different parts of the country, to ensure New Zealand homes are fit for purpose. More insulation is needed for houses in colder climates.
There are three main ways to check you comply with the Building Code requirements. They are the:
Schedule Method
Calculation Method
Verficiation Method.
The table below summarises the construction R-values specified in the acceptable solution for a house with timber-framed walls (low thermal mass).
Table 1
| | Climate Zones 1 and 2 | Climate Zones 3 |
| --- | --- | --- |
| Roof | R 2.9 | R 3.3 |
| Walls | R 1.9 | R 2.0 |
| Floor | R 1.3 | R 1.3 |
| Heated floors | R 1.9 | R 1.9 |
| Windows | R 0.26 | R 0.26 |
| Skylights | R 0.26 | R 0.31 |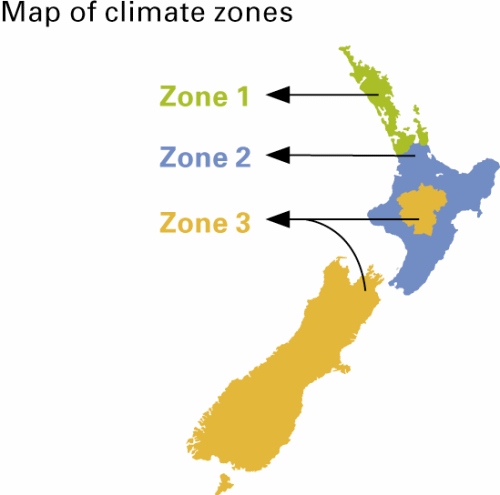 Construction R-values are for the complete building element (such as the roof or wall), not just the insulation product.
Construction R-values of the complete building elements are different to the insulation (product) R-values. The extent of difference depends on the construction details.
Construction R-values for building elements can be determined using:
Additional requirements
The total window area must be ≤ 30% of the total exterior wall area.
The combined window area of the east, south and west walls must be ≤ 30% of the combined area of these walls.
The total skylight area must be ≤ 1.2m².
The total area of leadlight glass must be ≤ 2.6 m².
Downlights must be classed CA80, CA135, IC or IC-F to compy with the Electricity Safety Regulations.
The R-value of carpets or floor coverings must not be included in calculation of floor R-value for heated floors.
For heated walls or ceilings, higher R-values are required (walls R 2.6, ceilings R 3.5).