Summary report of 2015-2017 technical reviews of councils
Posted: 29 March 2018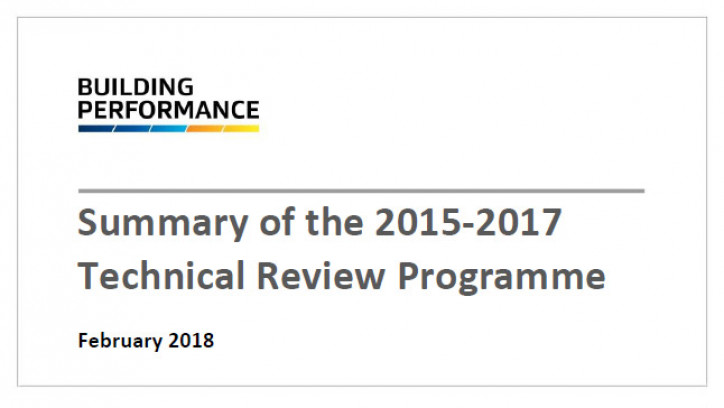 MBIE has released the summary of the 2015-2017 technical review programme of 23 councils, which it undertook from July 2015 to 30 June 2017.
The reviews primarily focused on how councils undertook some of their statutory territorial authority responsibilities under the Building Act 2004. These were in relation to:
amending compliance schedules (not captured by the building consent process)
enforcing the building warrant of fitness (BWoF) system via on-site audits, notices to fix (NTFs) and infringement notices.
In addition, the opportunity was taken to observe and assess the quality of installed passive fire systems (eg smoke/fire separations).
Summary of key issues across councils
Territorial authority versus BCA functions
Councils tend to focus on their building consent authority (BCA) functions over their territorial authority functions – as a result territorial authority functions are often under-resourced and under-funded. A consequence of this is evident in the number of compliance schedules that are non-compliant – 16 of 23 councils stated they had backlogs of 22-100 per cent of compliance schedules that needed to be amended.
Administration and enforcement of BWoF provisions
Of the 23 councils, 15 had been underperforming in relation to the administration and enforcement of the BWoF provisions. MBIE decided follow-up action would be necessary to monitor progress in implementing the review recommendations (including revisits to several councils).
Compliance schedule information at building consent stage
Building consent applicants/designers were providing generic and insufficient information about specified systems and the inspection, maintenance and reporting (IMR) procedures.
Policies and procedures for BWoFs
Most councils either had no documented policies and procedures or they needed updating for BWoFs and amending compliance schedules.
On-site audits
Of the 23 councils:
seven did not undertake on-site audits, or so few audits were undertaken that this activity could be considered non-existent
16 did undertake site audits, however:

three limited the audits to an on-site paper-based check only
five councils had, in MBIE's view, unacceptably long periods between audits.
Joint council/MBIE on-site audits were carried out with all 23 councils, and in almost all instances the audits revealed issues requiring council follow-up action.
Enforcement
Some of the councils did not use NTFs or infringement notices as a building control tool to achieve compliance for BWoF matters and compliance schedules.
Certificates of public use
Certificates of public use (CPUs) remained in place for unacceptably long periods of time. Of the 23 councils, four had high occupancy community facilities (eg library, aquatic centre, theatre), some council-owned, which have operated for several years under a CPU.
Access to compliance schedules
A compliance schedule is relevant for the life of a building and states the required IMR procedures. It is a key document for several parties, particularly independent qualified persons (IQPs) who do the maintenance and inspections of the building's specified systems.
MBIE is aware of cases where IQPs have never seen or referred to the relevant compliance schedule, despite requests to the building owner to provide one.
MBIE working with councils
The purpose of the technical review report is to continually identify and encourage best practice of the BWoF scheme. MBIE remains confident that there will be an improvement, and is aware some recommendations are actively being worked on now. MBIE has a programme of reviews of councils, and works with them to follow up the recommendations.
Summary of the 2015-2017 technical review programme has the full report.