LBP profile on Craig Cameron
Posted: 1 June 2016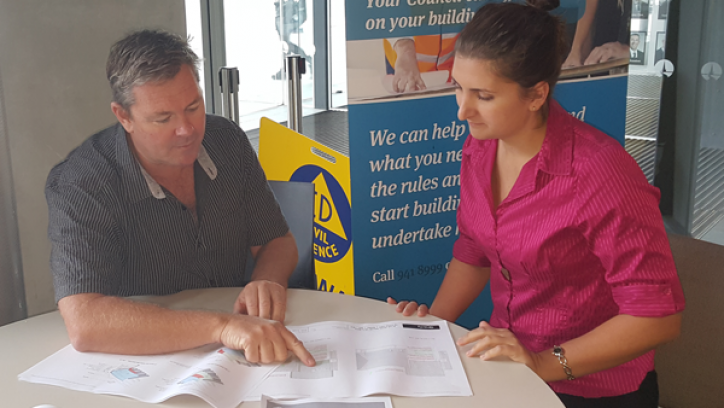 From scooping ice cream to scoping weathertightness, Craig Cameron's move to become one of five principal building inspectors for the Christchurch City Council.
Licenced Building Practitioner Craig Cameron tells the story of how he came to be a principal building inspector for the Christchurch City Council.
After moving to Christchurch from Sydney in 1993, Craig Cameron worked for various building companies, while also building his own house and honing his ice cream scooping skills in the family café.
The caf&eacute was frequented by Christchurch City Council building inspectors and he says "one conversation led to another and I started working at the council in early 2012. It certainly beats scooping ice cream!"
"I am one of five principal building officials at the Christchurch City Council and my function is weathertightness. My day can be anything from being office-bound while I field enquires, to visiting sites to identify and mark decayed timber so it can be removed. I also moonlight as a building inspector once a week, which keeps me on my toes and keeps me in touch with the industry.
"If I could get the industry to do one thing, it would be for more of us to brush up on the New Zealand Building Code."
Keeping up to date with the latest building regulations is something Craig takes seriously. "I've been a Licensed Building Practitioner since 2011. I receive a large amount of training in my role, but to keep my skills up-to-scratch I also attend seminars run by BRANZ and MBIE and am a transitional member of the New Zealand Institute of Building Surveyors."
But at the end of the day, it's the relationships he builds with clients that he really enjoys. "I often pop in for a cuppa and discuss the next move."
"I often visit a building site, get asked a tricky question and pull out E2 and show the builder first-hand how it can be done, only to be asked 'where can I get that book?'"
Registrar's note: If you're looking for the E2 document Craig refers to (Acceptable Solution E2/AS1) or information on any of the Building Code clauses, you'll find it in Building Code compliance on MBIE's Building Performance website.