Compliant lifts are easy to use for everyone
Posted: 23 March 2016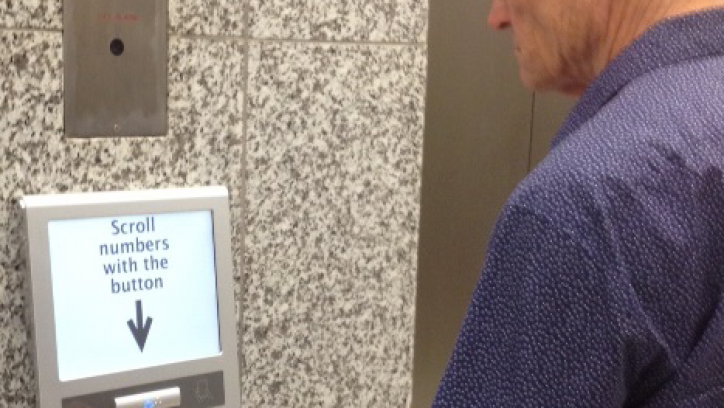 Many of us use lifts every day without thinking about their safety or how they operate. However, for someone who is visually impaired, using a lift can be challenging.
Requires building consent
Lift installation is building work and forms part of a building consent application to the Building Consent Authority (BCA).
Lift control requirements in Building Code Clause Mechanical Installations for Access D2.3.5 are summarised as follows:
Controls are easily identified and easily used
Notification that a call summoning the lift is registered
Notification that a lift has arrived and the direction of travel
Notification inside the lift of floor level.
The BCA needs to be satisfied that sufficient information is provided in the specification and design proposal that the proposed operating controls will comply with Clause D2.3.5.
Destination selection lifts
Many modern lifts installed are destination selection lifts. These have touch screens at each floor so don't need destination selection buttons inside the lift. However, a touch screen doesn't comply with D2.3.5 because it doesn't enable tactile interaction, nor adequately notify that a call has been registered. This may make the use of the lift challenging, particularly for people with a vision impairment.
Audible response solutions
There are various audible solutions with tactile activation available to supplement touch screens to make sure all people can use lifts easily.
Destination selection lifts need to notify people a lift has arrived. This is usually done by lighting an identification sign over the relevant lift landing door plus an audible notification such as a bell tone.
Inside the lift, the floor location is usually displayed by numbers on a lit screen. Acceptable Solution D2/AS1 specifies 'raised tactile numbers' on the landing doors for people who cannot read the screen. Sometimes this is impractical, even for someone with good vision, if the lift is stopping at several floors. One solution is to have a voice announcing each floor. This method is helpful for all users, particularly when a lift is crowded with some people unable to see the display screen. Visual floor indication is still needed, though.
With modern electronic technology, ensuring lifts are Building Code compliant is not difficult or expensive and makes sure lifts are easy to use for everyone.